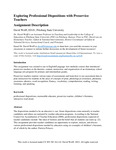 Description
The dispositions needed to be an educator is vast. Some dispositions come naturally to teacher candidates and others are nurtured by teacher education programs. According to the National Council for Accreditation of Teacher Education (2008), professional dispositions expected of teacher candidates include "the ideal of fairness and the belief that all students can learn (p. 22). This assignment provides teacher candidates an opportunity to explore, analyze, and discuss various professional dispositions needed by educators using six examples of children's literature, all of which by the author, Patricia Polacco.
Keywords
professional dispositions, memorable educator, preservice teacher, children's literature, interactive read aloud
Disciplines
Adult and Continuing Education and Teaching | Early Childhood Education | Educational Methods | Elementary Education | Elementary Education and Teaching | Higher Education and Teaching | Other Education | Other Teacher Education and Professional Development | Pre-Elementary, Early Childhood, Kindergarten Teacher Education
Recommended Citation
Wolff, David, "Exploring Professional Dispositions with Preservice Teachers Assignment Description" (2023). Open Educational Resources - Teaching and Learning. 2.
https://digitalcommons.pittstate.edu/oer-teaching/2
Creative Commons License


This work is licensed under a Creative Commons Attribution-NonCommercial-Share Alike 4.0 International License.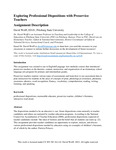 Included in
Adult and Continuing Education and Teaching Commons, Early Childhood Education Commons, Educational Methods Commons, Elementary Education Commons, Elementary Education and Teaching Commons, Higher Education and Teaching Commons, Other Education Commons, Other Teacher Education and Professional Development Commons, Pre-Elementary, Early Childhood, Kindergarten Teacher Education Commons
COinS