Title
Preview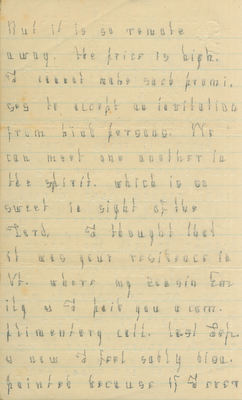 Description
Handwritten letter on lined paper from Laura Dewey Bridgman to Mrs. Abbie Foster, dated October 26th, 1879.
Digital Collection
Laura Dewey Bridgman Letters Collection
Collection Number
SpC MS 0002
Finding Aid
https://digitalcommons.pittstate.edu/fa/7/
Object Type
Correspondence
Location
New Hampshire -- Grafton County -- Hanover
Repository
Special Collections, Leonard H. Axe Library, Pittsburg State University
Publisher Digital
Pittsburg State University, Axe Library, Special Collections
Rights
The reproduction of images from the Pittsburg State University Special Collections & University Archives requires permission and possible payment for use in both digital and printed works, including books, articles, films and television; and for advertising or commercial purposes. Please see the "Application for Permission to Publish, Quote, Broadcast, or Exhibit Items from the Special Collections & University Archives" in the FAQ for more information. Those using these images and texts assume all responsibility for questions of copyright and privacy that may arise.
Transcript
But it is so remote away. The price is high. I cannot make such promises to accept an invitation from kind persons. We can meet one another in the spirit, which is so sweet in [the] sight of the Lord. I thought that it was your residence in Vt. where my cousin Emily & I paid you a complimentary call, last Sep. & now I feel sadly disa[p]pointed because if I ever
Keywords
Bridgman, Laura Dewey, 1829-1889--Correspondence; Foster, Abbie--Correspondence; Deafblind people--New Hampshire--Hanover
COinS