Title
Preview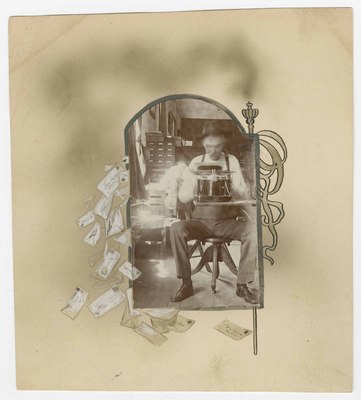 Description
1 photograph; Black and White; J. A. Wayland is typing on a typewriter in his publishing company, The Appeal to Reason, Girard, Kansas. One of his employees is working behind him. The photograph was cut and pasted onto off-white card stock. A black pen was used to draw a border around the photo. Envelopes and a staff with ribbon were drawn outside the black border.
Publisher Digital
Pittsburg State University, Kansas, Axe Library, Special Collections
Rights
Pittsburg State University. All rights reserved. For more information contact the Leonard H. Axe Library Special Collections, PSU, Pittsburg, KS 66762.