Preview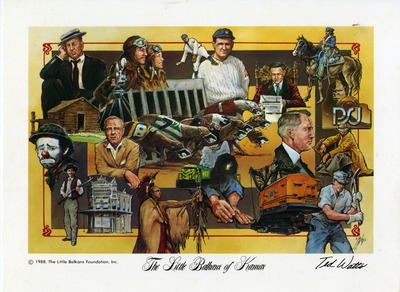 Description
Illustrated postcard of an art print used by the Little Balkans Foundation, Inc., Pittsburg, Kansas to promote a limited edition of 400 art prints entitled "The Little Balkans of Kansas." The Southeast Kansas subjects shown on the print include (beginning top left to right clockwise) Buster Keaton; Osa and Martin Johnson; Walter Johnson; Emanuel Haldeman-Julius; Fort Scott Dragoon soldier. (Second row from top) Laura Ingalls Wilder's "Little House on the Prairie" home; greyhounds racing; Pittsburg State University and Gus Gorilla mascot. (Third row from top) Emmett Kelly (clown); William Inge; Missouri Kansas Texas Railroad; Harold Bell Wright; cowboy. (Bottom row) Dalton gang member, Grat Dalton and the Coffeyville Bank; Osage Indian Chief; Big Brutus steam shovel; and a miner.
Location
Kansas--Southeast Kansas
Publisher Digital
Pittsburg State University, Kansas, Axe Library, Special Collections
Rights
Pittsburg State University. All rights reserved. For more information contact the Leonard H. Axe Library Special Collections, PSU, Pittsburg, KS 66762.