Preview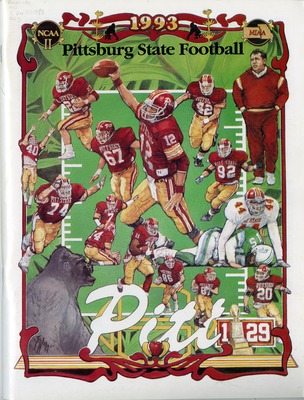 Description
Front cover artwork for the 1993 Pittsburg State University [Kansas] football program. Featured on the cover is head coach Chuck Broyles (1947-) (top right) and athletes Joey Tobin (22); Doug Bullard (67); Brian Hutchins (12); Derek Blackburn (42); Chance Rudzik (92); Tim Bradbury (40); Chris Hanna (74); Jeff Wood (7); Todd Hafner (14); Sean Scott (21); Paul Sparkman (86); Shad Klinge (87); Carlos Nevins (44); and Bob Tavernaro (20). At the bottom left corner is mascot Gus Gorilla. The images of the bananas and the apple (bottom center) denotes PSU traditions and a championship trophy is placed on the bottom right corner or the program.
Location
Kansas--Pittsburg
Publisher Digital
Pittsburg State University, Kansas, Axe Library, Special Collections
Rights
The reproduction of images from the Pittsburg State University Special Collections & University Archives requires permission and possible payment for use in both digital and printed works, including books, articles, films and television; and for advertising or commercial purposes. Please see the "Application for Permission to Publish, Quote, Broadcast, or Exhibit Items from the Special Collections & University Archives" in the FAQ for more information. Those using these images and texts assume all responsibility for questions of copyright and privacy that may arise.