Title
Preview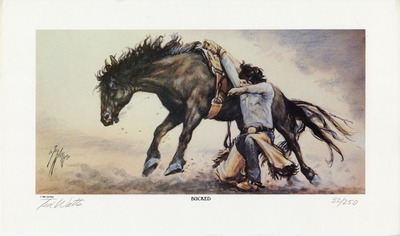 Description
7" x 14" lithograph reproduction of "Bucked" printed on 10" x 17" linen finish art print paper. Limited edition created by Ted Watts in 1986, and signed by Watts. 32/250.
Publisher Digital
Pittsburg State University, Kansas, Axe Library, Special Collections
Rights
Pittsburg State University. All rights reserved. For more information contact the Leonard H. Axe Library Special Collections, PSU, Pittsburg, KS 66762.