Preview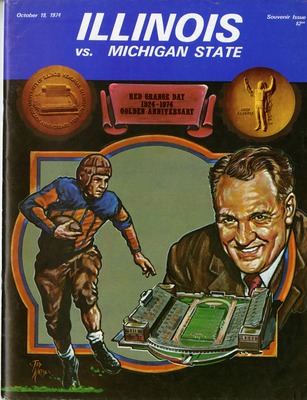 Description
Front Cover artwork the for 1974 University of Illinois [Urbana-Champaign] football program honoring the golden anniversary of Red Grange Day 1924-1974. "Galloping Ghost" Harold 'Red' Grange (1903-1991) played for Illinois from 1923-1925. The University of Illinois Memorial Stadium also celebrated its golden anniversary 1924-1974. The mascot Chief Illiniwek (1926-2007) is shown in the upper right corner.
Location
Illinois--Urbana-Champaign
Publisher Digital
Pittsburg State University, Kansas, Axe Library, Special Collections
Rights
The reproduction of images from the Pittsburg State University Special Collections & University Archives requires permission and possible payment for use in both digital and printed works, including books, articles, films and television; and for advertising or commercial purposes. Please see the "Application for Permission to Publish, Quote, Broadcast, or Exhibit Items from the Special Collections & University Archives" in the FAQ for more information. Those using these images and texts assume all responsibility for questions of copyright and privacy that may arise.