Preview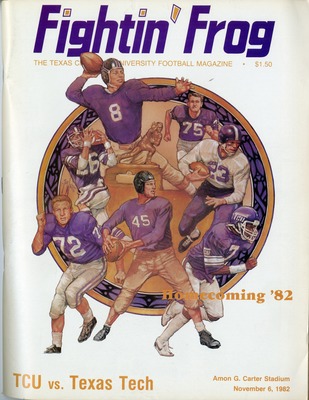 Description
Illustrated front cover for the "Fightin' Frog" Texas Christian University [Fort Worth] vs. Texas Tech University [Lubbock] 1982 homecoming program. The cover depicts seven men who played football for TCU. (Clockwise from top) Davey O'Brien (8) circa 1938; Don Floyd (75) circa late 1950s; Dr. Jim Swink (23) circa 1957; Stanley Washington (7) 1982; Sammy Baugh (45) circa 1935-36; Bob Lilly (72) circa 1960; and Mike Renfro (26) circa 1976.
Location
Texas--Fort Worth
Publisher Digital
Pittsburg State University, Kansas, Axe Library, Special Collections
Rights
The reproduction of images from the Pittsburg State University Special Collections & University Archives requires permission and possible payment for use in both digital and printed works, including books, articles, films and television; and for advertising or commercial purposes. Please see the "Application for Permission to Publish, Quote, Broadcast, or Exhibit Items from the Special Collections & University Archives" in the FAQ for more information. Those using these images and texts assume all responsibility for questions of copyright and privacy that may arise.