Preview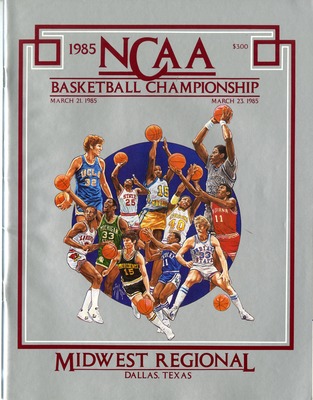 Description
Illustrated cover artwork for the 1985 National Collegiate Athletic Association (NCAA) basketball championship program. Games were held March 21-23, 1985 in Dallas, Texas. Depicted on the front cover are past NCAA Most Valuable Players and NCAA Regional MVPs. Those players are Bill Walton, UCLA (1972-73); Dereck Whittenburg, North Carolina State University [Raleigh] (1983); Butch Lee, Marquette University [Milwaukee, Wisconsin] (1977); Durand Macklin, Louisiana State University [Baton Rouge] (1981); Patrick Ewing, Georgetown University [Washington, DC] (1984); Darrell Griffith, University of Louisville [Kentucky] (1980); Earvin "Magic" Johnson, Michigan State University [East Lansing] (1979); Ernie DiGregorio, Providence College [Rhode Island] (1973); Dicky Beal, University of Kentucky [Lexington] (1984); Larry Bird, Indiana State University [Terra Haute] (1979); and Isiah Thomas, University of Indiana [Bloomington (1981).
Publisher Digital
Pittsburg State University, Kansas, Axe Library, Special Collections
Rights
Pittsburg State University. All rights reserved. For more information contact the Leonard H. Axe Library Special Collections, PSU, Pittsburg, KS 66762.