Preview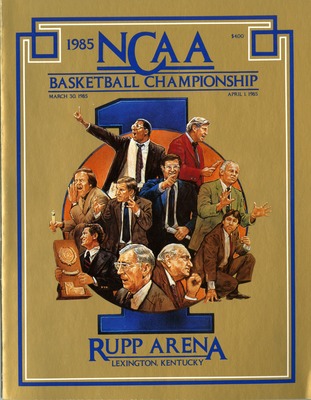 Description
Illustrated front cover for the 1985 National Collegiate Athletic Association (NCAA) basketball championship program. The championship games were held in Rupp Arena at the University of Kentucky [Lexington] March 30-April 1, 1985. Shown in the cover illustration are past NCAA Tournament Championship coaches. From top left clockwise are: John Thompson, Georgetown University [Washington, DC] (1984); Bob Knight, University of Indiana [Bloomington] (1976, 1981); Denny Crum, University of Louisville [Kentucky] (1980); Dean Smith, University of North Carolina [Chapel Hill] (1982); Joe B. Hall, University of Kentucky [Lexington] (1978); Jud Heathcote, Michigan State University [East Lansing] (1979); Al McGuire, Marquette University [Milwaukee, Wisconsin] (1977); John Wooden, UCLA (1964, '65, '67, '68, '69, '70, '71, '72, '73, '75); Adolph Rupp, University of Kentucky [Lexington] (1948, '49, '51, '58); and Jim Valvano, North Carolina State University [Raleigh] (1983).
Location
Kentucky--Lexington
Publisher Digital
Pittsburg State University, Kansas, Axe Library, Special Collections
Rights
The reproduction of images from the Pittsburg State University Special Collections & University Archives requires permission and possible payment for use in both digital and printed works, including books, articles, films and television; and for advertising or commercial purposes. Please see the "Application for Permission to Publish, Quote, Broadcast, or Exhibit Items from the Special Collections & University Archives" in the FAQ for more information. Those using these images and texts assume all responsibility for questions of copyright and privacy that may arise.