Preview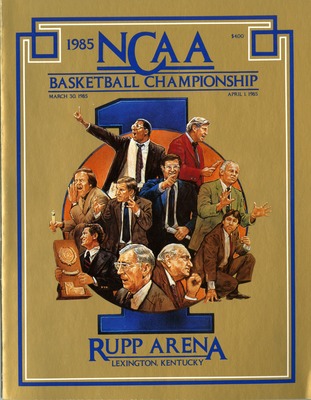 Description
Illustrated front cover for the 1985 National Collegiate Athletic Association (NCAA) basketball championship program. The championship games were held in Rupp Arena at the University of Kentucky [Lexington] March 30-April 1, 1985. Shown in the cover illustration are past NCAA Tournament Championship coaches. From top left clockwise are: John Thompson, Georgetown University [Washington, DC] (1984); Bob Knight, University of Indiana [Bloomington] (1976, 1981); Denny Crum, University of Louisville [Kentucky] (1980); Dean Smith, University of North Carolina [Chapel Hill] (1982); Joe B. Hall, University of Kentucky [Lexington] (1978); Jud Heathcote, Michigan State University [East Lansing] (1979); Al McGuire, Marquette University [Milwaukee, Wisconsin] (1977); John Wooden, UCLA (1964, '65, '67, '68, '69, '70, '71, '72, '73, '75); Adolph Rupp, University of Kentucky [Lexington] (1948, '49, '51, '58); and Jim Valvano, North Carolina State University [Raleigh] (1983).
Location
Kentucky--Lexington
Publisher Digital
Pittsburg State University, Kansas, Axe Library, Special Collections
Rights
Pittsburg State University. All rights reserved. For more information contact the Leonard H. Axe Library Special Collections, PSU, Pittsburg, KS 66762.