Preview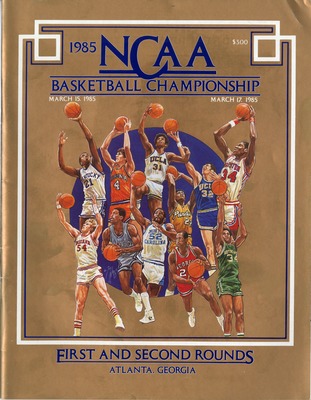 Description
Illustrated front program cover for the 1985 National Collegiate Athletic Association Basketball Championship games, First and Second Rounds, held in Atlanta, Georgia, March 15-17, 1985. Shown in the cover illustration are past NCAA Championship Most Valuable Players and NCAA Regional MVPs. The players include: Jack Givens, University of Kentucky [Lexington] (1978); Jimmy Miller, University of Virginia [Charlottesville] (1981); Richard Washington, UCLA (1975); Joe Barry Carroll, Purdue University [West Lafayette, Indiana] (1980); Steve Patterson, UCLA (1971); Akeem Olajuwon, University of Houston [Texas] (1983); Kent Benson, University of Indiana [Bloomington] (1976); Gene Smith, Georgetown University [Washington, DC] (1982); James Worthy, North Carolina State University [Raleigh] (1982); James Banks, University of Georgia [Athens] (1983); and Austin Carr, University of Notre Dame [Indiana] (1971).
Location
Georgia--Atlanta
Publisher Digital
Pittsburg State University, Kansas, Axe Library, Special Collections
Rights
The reproduction of images from the Pittsburg State University Special Collections & University Archives requires permission and possible payment for use in both digital and printed works, including books, articles, films and television; and for advertising or commercial purposes. Please see the "Application for Permission to Publish, Quote, Broadcast, or Exhibit Items from the Special Collections & University Archives" in the FAQ for more information. Those using these images and texts assume all responsibility for questions of copyright and privacy that may arise.