Preview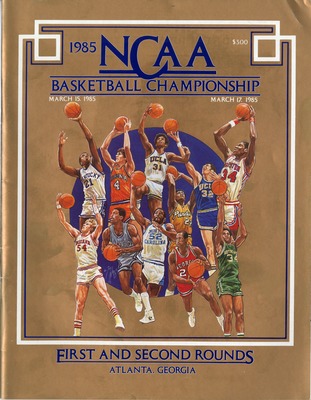 Description
Illustrated front program cover for the 1985 National Collegiate Athletic Association Basketball Championship games, First and Second Rounds, held in Atlanta, Georgia, March 15-17, 1985. Shown in the cover illustration are past NCAA Championship Most Valuable Players and NCAA Regional MVPs. The players include: Jack Givens, University of Kentucky [Lexington] (1978); Jimmy Miller, University of Virginia [Charlottesville] (1981); Richard Washington, UCLA (1975); Joe Barry Carroll, Purdue University [West Lafayette, Indiana] (1980); Steve Patterson, UCLA (1971); Akeem Olajuwon, University of Houston [Texas] (1983); Kent Benson, University of Indiana [Bloomington] (1976); Gene Smith, Georgetown University [Washington, DC] (1982); James Worthy, North Carolina State University [Raleigh] (1982); James Banks, University of Georgia [Athens] (1983); and Austin Carr, University of Notre Dame [Indiana] (1971).
Location
Georgia--Atlanta
Publisher Digital
Pittsburg State University, Kansas, Axe Library, Special Collections
Rights
Pittsburg State University. All rights reserved. For more information contact the Leonard H. Axe Library Special Collections, PSU, Pittsburg, KS 66762.