Preview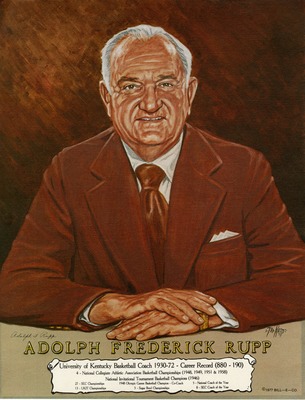 Description
Portrait drawing of Adolph Frederick Rupp (1901-1977). The text printed under the portrait tribute: "University of Kentucky [Lexington] basketball coach from 1930-1972. Career Record (880-190). 4 - National Collegiate Athletic Association Basketball Championships (1948, 1949, 1951 & 1958). National Invitational Tournament Basketball Champions (1946). 27 - SEC Championships. 1948 Olympic Games Basketball Champion - Co-Coach. 5 - National Coach of the Year. 13 - UKIT Championships. 5 - Sugar Bowl Championships. 8 - SEC Coach of the Year."
Location
Kentucky--Lexington
Publisher Digital
Pittsburg State University, Kansas, Axe Library, Special Collections
Rights
The reproduction of images from the Pittsburg State University Special Collections & University Archives requires permission and possible payment for use in both digital and printed works, including books, articles, films and television; and for advertising or commercial purposes. Please see the "Application for Permission to Publish, Quote, Broadcast, or Exhibit Items from the Special Collections & University Archives" in the FAQ for more information. Those using these images and texts assume all responsibility for questions of copyright and privacy that may arise.