Preview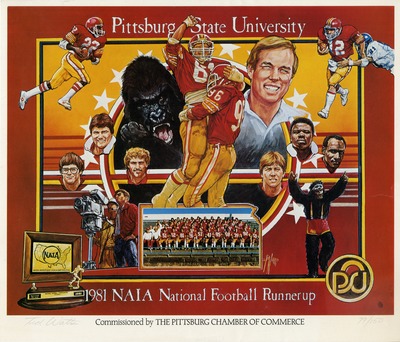 Description
Illustrated poster reproduction for Pittsburg State University's [Kansas] 1982 football season, printed on glossy white paper, and signed by Ted Watts. 79/150. The poster was commissioned by the Pittsburg Chamber of Commerce. Pictured on the poster are various PSU players, head football coach Ron Randleman (1941-), a wild gorilla, media camera and cameramen (lower left), and Gus Gorilla mascot (lower right). A photograph of the team and coaches is displayed in the lower center of the poster. The 1981 NAIA National Football Runner-up trophy is pictured bottom left with the PSU logo bottom right.
Location
Kansas--Pittsburg
Publisher Digital
Pittsburg State University, Kansas, Axe Library, Special Collections
Rights
The reproduction of images from the Pittsburg State University Special Collections & University Archives requires permission and possible payment for use in both digital and printed works, including books, articles, films and television; and for advertising or commercial purposes. Please see the "Application for Permission to Publish, Quote, Broadcast, or Exhibit Items from the Special Collections & University Archives" in the FAQ for more information. Those using these images and texts assume all responsibility for questions of copyright and privacy that may arise.