Preview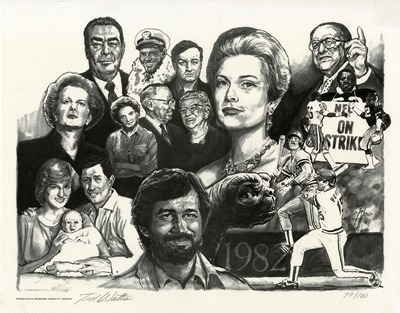 Description
Illustrated one color on buff art paper depicting various 1982 world events for the Phoenix Mutual Brokerage in Kansas City, Missouri and signed by Ted Watts. 79/100. Beginning top row, left to right: Leonid Illyich Brezhnev (1906-1982), Soviet politician who led the Soviet Union as General Secretary of the governing Communist Party (1964–1982) and as Chairman of the Presidium of the Supreme Soviet (1977–1982) died November 10th; Henry Fonda (1905-1982), American film and stage actor for over 50 years, died August 12th. Here he is drawn as Mister Roberts from the film same title (1955); John Belushi (1949-1982), American actor, comedian, and singer, died March 5th; Henry Kissinger (1923-), past United States Secretary of State and National Security Advisor founded a consulting firm, Kissinger Associates. Second row: Margaret Thatcher (1925-2013), Prime Minister, Great Britain, helped lead a successful military campaign to defend the Falkland Islands from an Argentine invasion beginning in April; Ingrid Bergman (1915-1982), Swedish actress well-known for her European and American films, died August 29th; President Harry Truman (1884-1972) and his wife, Bess (1885-1982), who died October 18th; Grace Kelly, also known as Princess Grace of Monaco (1929-1982), died in a tragic car accident September 14th; the NFL went on a 57-day strike in 1982. Bottom row: Prince William, Duke of Cambridge (1982-), was born on June 21st to Princess Diana (1961-1997) and Prince Charles (1948-); Steven Spielberg (1946-) produced and directed the American science fiction film, "E. T. the Extra Terrestrial". "E.T." was released June 11th; The St. Louis Cardinals won the 1982 World Series (4) over the Milwaukee Brewers (3). Darrell Porter (1952-2002), St. Louis Cardinals (15), and Robin Yount (1955-), Milwaukee Brewers (19), received MVP awards that year.
Location
Missouri-Kansas City
Publisher Digital
Pittsburg State University, Kansas, Axe Library, Special Collections
Rights
The reproduction of images from the Pittsburg State University Special Collections & University Archives requires permission and possible payment for use in both digital and printed works, including books, articles, films and television; and for advertising or commercial purposes. Please see the "Application for Permission to Publish, Quote, Broadcast, or Exhibit Items from the Special Collections & University Archives" in the FAQ for more information. Those using these images and texts assume all responsibility for questions of copyright and privacy that may arise.