Preview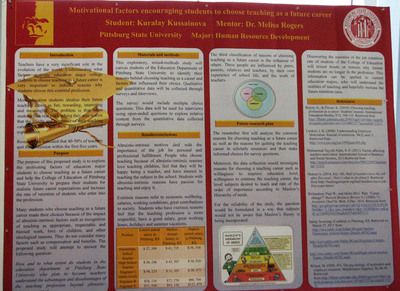 Document Type
Graduate Research
Department
Human Resources Development
Abstract
Teachers have a very significant role in the evolution of the world. Understanding what factors motivate college students of education majors to choose teaching as a future career is very important to indicate reasons why students choose this essential profession.
Most education students idealize their future teaching career as fun, rewarding, interesting and meaningful. The problem is that when students face real life teaching they may realize that the results and outcomes of their teaching career do not meet their previous idealized expectations.
The purpose of this proposed study is to explore the motivating factors of education major students to choose teaching as a future career and help the College of Education of Pittsburg State University to prepare their students in realistic future career expectations. Many students who choose teaching as a future career made their choices because of the impact of altruistic-intrinsic factors such as recognition of teaching as appropriate, respectable and blessed work, love to children, and other ideological reasons. They do not consider many factors such as compensation and benefits. The proposed study will attempt to answer the following question.
How and to what extent do students in the education department at Pittsburg State University who plan to become teachers understand the advantages and disadvantages of the teaching profession beyond altruistic-intrinsic reasons?
This exploratory, mixed-methods study will canvas students of the Education Department of Pittsburg State University to identify their reasons behind choosing teaching as a career and factors that influenced their choice. Qualitative and quantitative data will be collected through surveys and interviews. The survey would include multiple choice questions. This data will be used for interviews using open-ended questions to explore relative content from the quantitative data collected through surveys.
The researcher first will analyze the common reasons for choosing teaching as a future career in scholarly resources and then make informed choices for survey questions. Moreover, the data collection would investigate reasons for choosing a teaching career such as willingness to improve education level, willingness to continue the teaching career, the level subjects desired to teach and rate of the order of importance according to Maslow's Hierarchy of needs. For the reliability of the study, the question would be formulated the way subjects would not consider Maslow's theory in the question would be formulated the way subjects would not consider Maslow's theory in the question.