Preview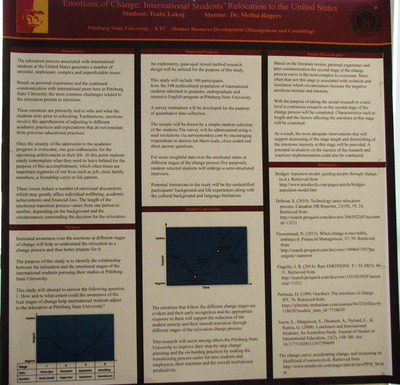 Document Type
Graduate Research
Department
Human Resources Development
Abstract
The relocation process associated with international students in the United States generates a number of stressful, unpleasant, complex and unpredictable issues. Based on personal experience and the continued communication with international peers here at Pittsburg State University the most common challenges related to the relocation pertain to emotions. These emotions are primarily tied to who and what the students miss prior to relocating. Furthermore, emotions involve the apprehension of adjusting to different academic practices and expectations that do not translate from previous educational practices. Once the anxiety of the admission to the academic program is overcome, one gets enthusiastic for the upcoming achievement in their life, At this point students rarely contemplate what they need to leave behind to for the purpose of this accomplishment, which often times are important segments of our lives such as a job, close family members, a friendship circle or life pattern. These issues induce a number of emotional discomforts which may greatly affect individual wellbeing, academic achievements and financial loss. The length of the emotional transition process varies from one person to another, depending on the background and the circumstances surrounding the decision for the relocation.
Increased awareness over the emotions at different stages of change will help us understand the relocation as a change process and thus better prepare for it. The purpose of this study is to identity the relationship between the relocation and the emotional stages of the international students pursuing their studies at Pittsburg State University. This study will attempt to answer the following question.
How and to what extent could the awareness of the four stages of change help international students adjust to the relocation at Pittsburg State University?
An exploratory, quan-qual mixed method research design will be utilized for the purpose of this study. This study will include 100 participants. The sample will be drawn by a simple random selection of the students from a multicultural population of international students admitted in graduate, undergraduate and intensive English program at Pittsburg State University. A survey instrument using e-mail invitations via surveymonkey.com by encouraging respondents to answer ten likert-scale, close-ended and short answer questions. For more insightful data over the emotional states at different stages of the change process five purposely random selected students will undergo a semi-structured interview. Potential limitations to the study will be the unidentified participants' background and life experiences along with the cultural background and language limitations.
The emotions that follow the different change stages are evident and their early recognition and the appropriate response to t them will support the reduction of the student anxiety and their smooth transition through different stages of the relocation change process. This research will assist among others the Pittsburg State University to improve their step-by-step change planning and the on-boarding practices by making the transitioning process easier for new students and employees, their retention and the overall institutional productivity.