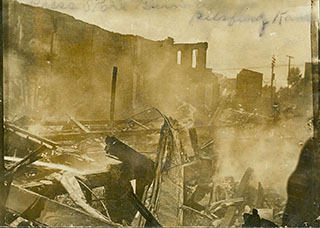 The Pittsburg Fire Department, Call Register, 1907-1917 collection contains one ledger book of 477 pages. Included in the ledger is a handwritten account of each fire that was fought by the No. 1 and No. 2 fire stations located in Pittsburg, Kansas. Each account describes the location and/or address of the fire; the cause of the fire; damage to the buildings and contents; value of the property and contents; insurance and agents, if known; property owners and tenants; water pressure, number of hoses and footage used as well as number of ladders and extinguishers used; and round trip mileage for each fire station.
The photo postcard image, shown on the left, shows the destruction of the S. H. Kress building on July 6, 1911. A record of the fire is found on pages 160-161 in the Pittsburg, Kansas, Fire Department Register. On the back of the postcard is written, "This view was taken about 6:00 o'clock in the morning just after the side fell. Regards, M H." The postcard was addressed to Mr. B. B. Estelman, c/o S. H. Kress & Co., Wichita, Kans. and postmarked July 23, 1911.
An index of persons can be found within the collection's finding aid: Pittsburg Fire Department, Pittsburg, Kansas, Call Register, 1907-1917
Printing is not supported at the primary Gallery Thumbnail page. Please first navigate to a specific Image before printing.