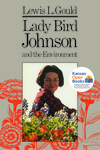 Description
In the 1960s Lady Bird Johnson sought to improve the natural appearance of Washington, D.C., to make the nation's highways less cluttered with billboards and junkyards, and to advance the environmental agenda of Lyndon Johnson's presidency. The popular understanding of what she did remains incomplete, and her role as a woman conservationist has not been well understood. In this, the first book to example her accomplishments as First Lady, Lewis Gould shows Lady Bird Johnson as a catalyst for environmental ideas and as a powerful and persuasive force within her husband's administration. Although passage of the Highway Beautification Act in 1965 was the legislative apex of her efforts, Lady Bird Johnson also articulated a wide range of conservation issues, framing policy initiatives and focusing public opinion. She instilled conservation and ecological ideas in the national mind, Gould argues, with a skill and adroitness that puts Mrs. Johnson in the front rank among modern First Ladies. Indeed, in his view, only Eleanor Roosevelt surpasses her in importance. This book is the result of Gould's extensive research in the LBJ Library and draws on his interviews with such key figures as Interior Secretary Steward Udall, Press Secretary Liz Carpenter, District of Columbia Mayor Walter Washington, and Lady Bird Johnson herself. Description Lewis L. Gould is Eugene C. Barker Centennial Professor Emeritus in American History at the University of Texas at Austin. His other books include The Presidency of Theodore Roosevelt;Four Hats in the Ring: The 1912 Election and the Birth of Modern American Politics; and The Modern American Presidency. With a New Preface by the Author. This Kansas Open Books title is funded by a grant from the National Endowment for the Humanities and the Andrew W. Mellon Foundation Humanities Open Book Program.
Publication Date
2-29-1988
Publisher
University Press of Kansas
DOI
https://doi.org/10.2307/j.ctv1p2gjzg
Rights Statement
© 1988, 2021 University Press of Kansas All Rights Reserved First Published 1988. Reissued 2021. The text of this book is licensed under a Creative Commons Attribution-NonCommercial-NoDerivatives 4.0 International Public License.
Rights Status
Open Access
Recommended Citation
Gould, Lewis L., "Lady Bird Johnson and the Environment" (1988). Kansas Open Books. 26.
https://digitalcommons.pittstate.edu/kansas_open_books/26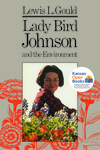 COinS