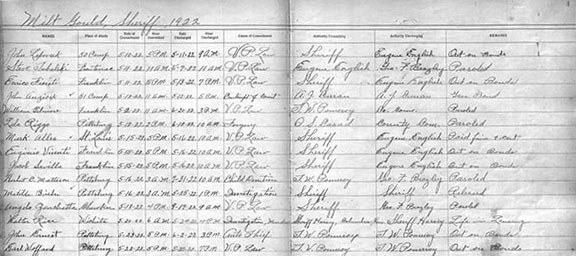 This collection consists of one jail ledger book of 321 pages from the Crawford County Sheriff's Department. Included in the ledger is a handwritten list of persons booked into the county jail from March 1, 1922 to September 1, 1935. Kansas State law required the record to include Place of Abode, Date of Commitment, Hour Committed, Date Discharged, Hour Discharged, Cause of Commitment, Authority Committing, Authority Discharging, and Remarks. This is the earliest extant ledger for the Crawford County Jail. Many entries in the Ledger were persons who were booked for Violation of Prohibition Law (VPL).
An index of persons can be found within the collection's finding aid: Crawford County, Kansas, Sheriff's Department Daily Jail Ledger, 1922-1935 (MS59)
Printing is not supported at the primary Gallery Thumbnail page. Please first navigate to a specific Image before printing.