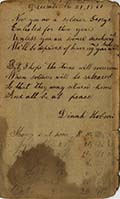 Abstract
Diary kept by George Hobson while he was serving during the Civil War.
Digital Collection
George Hobson Civil War Collection
Collection Number
SpC MS 0040
Finding Aid
https://digitalcommons.pittstate.edu/fa/29/
Identifier
GH40_diary 1865
Repository
Special Collections, Leonard H. Axe Library, Pittsburg State University
Publisher Digital
Digital Resources and Initiatives Dept., Special Collections, Pittsburg State University
Rights
Digital image copyright 2016, Pittsburg State University. All rights reserved. For more information contact Special Collections and Archives, PSU, Pittsburg, KS, 66762.
Recommended Citation
Hobson, George, "George Hobson Diary, 1865" (2016). George Hobson Civil War Diaries. 1.
https://digitalcommons.pittstate.edu/hobson/1