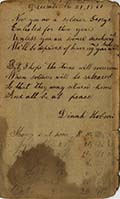 In 1865, George and Mary Hobson came to Southeast Kansas from Hillsboro, Iowa, and founded the settlement of Iowa City at the present-day site of Pittsburg, Kansas. The Hobsons opened the first post office, school, store, saloon and dance hall in the area.
George Hobson had served in Company G of the 4th Iowa Cavalry during the Civil War. The 4th Iowa Cavalry was organized at Camp Harlan in Mount Pleasant, Iowa in September 1861, and mustered in for a three year period. It was under the command of Colonel Asbury B. Porter. The regiment was attached to 2nd Division of the Army of Southwest Missouri, Department of Missouri, until July 1862. Following that, it was part of the District of Eastern Arkansas, Department of Missouri, until December 1862. It was then part of several more units throughout the war and participated in battles in Arkansas, Alabama, Georgia, Missouri, Kansas, and Mississippi, including the siege at Vicksburg, Mississippi in 1863. The 4th Iowa Cavalry mustered out of service at Atlanta, Georgia on August 10, 1865 and was discharged at Davenport, Iowa on August 24, 1865. Hobson's diary contains brief entries as to their location, weather, and events during this period.
Following his discharge in 1865, the Hobsons, with friends and family, came to Southeast Kansas from Iowa, with approximately a dozen wagons and cattle. The Hobsons homesteaded 160 acres in the area of Pittsburg now called Random Acres.
George Hobson was stricken with paralysis in 1887 and died in April 1891. George and other members of the family were buried in a corner of his land. The Hobson family cemetery later became a public burial ground and is now part of the Highland Park cemetery.
Finding Aid: Hobson Family Collection, 1842-2006 (MS040)
Submissions from 2016
George Hobson Diary, 1861-1862, George Hobson
George Hobson Diary, 1864, George Hobson
George Hobson Diary, 1865, George Hobson