Title
Preview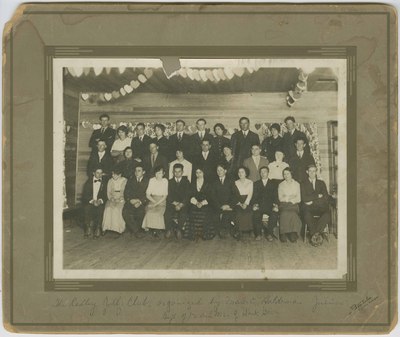 Description
1 photograph; Sepia; posed shot; A Valentine's Day part. The writing says "For Henry Geier, with cordial greetings from Anna Marcet Haldeman. The Radley Jolly Club, February Eleventh, Nineteen Hundred and Sixteen. Radley, Kansas."
Digital Collection
Haldeman-Julius Photograph Collection, 1889-1968
Collection Number
SpC MS 0013
Finding Aid
https://digitalcommons.pittstate.edu/fa/146/
Location
Kansas -- Crawford County -- Radley
Repository
Leonard H. Axe Library, Special Collections and University Archives
Publisher Digital
Digital Resources and Initiatives Department
Rights
The reproduction of images from the Pittsburg State University Special Collections & University Archives requires permission and possible payment for use in both digital and printed works, including books, articles, films and television; and for advertising or commercial purposes. Please see the "Application for Permission to Publish, Quote, Broadcast, or Exhibit Items from the Special Collections & University Archives" in the FAQ for more information. Those using these images and texts assume all responsibility for questions of copyright and privacy that may arise.
Keywords
Radley Jolly Club; Haldeman-Julius Photograph Collection, 1889-1968
COinS