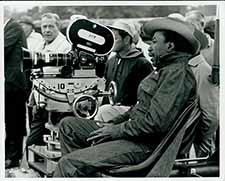 Preview
Description
Black & White photograph of Gordon Parks walking past actors blocked for filming "The Learning Tree" Sarah's (Newt's mother) burial scene on location in Bourbon and Linn counties, Kansas. Actors shown sitting in front are Uncle Rob (Joel Fluellen), Jack Winger (Felix P. Nelson), Clara (Lynn Hamilton). Actors standing in back are Newt Winger (Kyle Johnson), Silas Newhall (Malcolm Atterbury), and Doc Cravens (Kevin Hagen).
Digital Collection
The Gordon Parks Collection
Collection Number
SpC MS 0025
Finding Aid
https://digitalcommons.pittstate.edu/fa/43/
Location
ansas--Fort Scott (Ft. Scott); Linn County; Bourbon County; 1968
Publisher Digital
Pittsburg State University, Kansas, Axe Library, Special Collections
Rights
Digital image copyright 2014, Pittsburg State University. All rights reserved. For more information contact the Leonard H. Axe Library Special Collections, PSU, Pittsburg, KS 66762.
Keywords
Parks, Gordon, 1912-2006; Motion pictures--Kansas--Linn County; Motion pictures--Kansas--Bourbon County; African Americans--Kansas--Fort Scott; Fort Scott (Kan.)--History; Linn County (Kan.)--History; Bourbon County (Kan.)--History; Fluellen, Joel; Nelson, Felix P.; Hamilton, Lynn; Johnson, Kyle, 1951-; Atterbury, Malcolm, 1907-1992; Hagen, Kevin
COinS