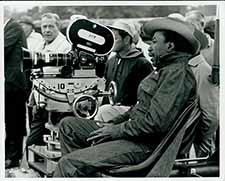 Preview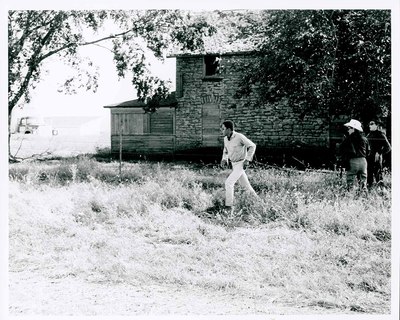 Description
Black & White photograph of Gordon Parks, Jr. walking in front of the house used on location during the filming of "The Learning Tree" in Bourbon and Linn counties, Kansas. There are two crew members standing at the right side of the image.
Digital Collection
Gordon Parks Collection
Collection Number
SpC MS 0025
Finding Aid
https://digitalcommons.pittstate.edu/fa/43/
Identifier
CO25_F08_E07_01
Location
Kansas--Fort Scott (Ft. Scott); Linn County; Bourbon County
Publisher Digital
Pittsburg State University, Kansas, Axe Library, Special Collections
Rights
The reproduction of images from the Pittsburg State University Special Collections & University Archives requires permission and possible payment for use in both digital and printed works, including books, articles, films and television; and for advertising or commercial purposes. Please see the "Application for Permission to Publish, Quote, Broadcast, or Exhibit Items from the Special Collections & University Archives" in the FAQ for more information. Those using these images and texts assume all responsibility for questions of copyright and privacy that may arise.
Keywords
Parks, Gordon, 1912-2006; Motion pictures--Kansas--Linn County; Motion pictures--Kansas--Bourbon County; African Americans--Kansas--Fort Scott; Fort Scott (Kan.)--History; Linn County (Kan.)--History; Bourbon County (Kan.)--History; Lamond, Carole
COinS