Title
Description
Handwritten letter on lined paper from Laura Dewey Bridgman to Mrs. Abbie Foster, dated December 31st, 1881.
Digital Collection
Laura Dewey Bridgman Letters Collection
Collection Number
SpC MS 0002
Finding Aid
https://digitalcommons.pittstate.edu/fa/7/
Object Type
Correspondence
Location
Massachusetts -- Suffolk County -- Boston
Repository
Special Collections, Leonard H. Axe Library, Pittsburg State University
Publisher Digital
Pittsburg State University, Axe Library, Special Collections
Rights
Digital image copyright 2014, Pittsburg State University. All rights reserved. For more information contact the Leonard H. Axe Library Special Collections, PSU, Pittsburg, KS 66762.
Transcript
so very highly. I had a cough for over 2 months, & now is better. Was ill a few days soon on my arrival from home in Nov early. I suffer so many ill spells. I am happily settled with another Matron this term. You must write me again soon. I am so tired. Yours truly, L.D.B.
Preview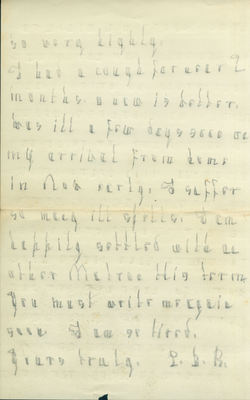 Keywords
Bridgman, Laura Dewey, 1829-1889--Correspondence; Foster, Abbie--Correspondence; Deafblind people--Massachusetts--Boston; Garfield, Lucretia Ruldoph, 1832-1918; Garfield, James A. (James Abram), 1831-1881
COinS