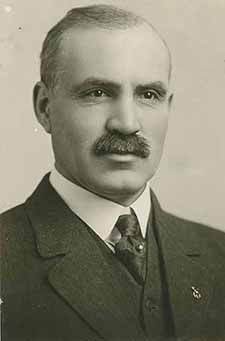 The William Aaron Brandenburg Collection contains documents and items relating to the Kansas State Teachers College of Pittsburg, Kansas (now Pittsburg State University), particularly the years that Dr. Brandenburg was the president of the college, 1913-1940. He was the first leader of the school to have the title of President, replacing the title of Principal. During his presidency Dr. Brandenburg added ten buildings to the campus, numerous programs and certificates, and increased the size of the faculty. The collection includes photographs, newspapers, items concerning both 20th and 25th anniversary celebrations, and biographical information.
Finding Aid: William Aaron Brandenburg Collection, 1911-1942, 1989 (MS99)
Submissions from 2016
Article, "Another Kind of Jubilee in 1938 Graduate Class"
Article, "Big Problem Faced Pres. Brandenburg As First Year Ended"
Article, "Brandenburg Sees Wise Adjustments Ahead in Education"
Article, "Burlesques Modern Speech"
Article, "College Site Once Vegetable Garden"
Article, "Committee Roster For Brandenburg Silver Jubilee"
Article, "Drama Plus 'Boo' Equals Nil"
Article, "Faculty Members Have Spent 2,100 Years in School"
Article, "Family Tradition Spurs President"
Article, "First Taught in Log Cabin; Headed College 27 Years"
Article, "Friday, March 18, Is Celebration Feature"
Article, "Gains New Instructor"
Article, "Great Difference Noted in Campus Over 25 Years"
Article, "Inauguration was Eight Months Late"
Article, "K.S.T.C. Shows Gain"
Article, "Last Rites Held in K.S.T.C. Auditorium"
Article, "Many Changes in Campus of Today"
Article, "Many Express Grief and Sympathies"
Article, "'Prexy' Missed Seeing Completed Stadium First in Use This Fall"
Article, "Russ Hall Blaze Early Tragedy at College Here"
Articles about Alumni Day and the Brandenburg Jubilee
Article, "Steady Growth for Pittsburg College Under Brandenburg" and article, "Faculty Members Have Spent 2,100 Years in School"
Article, "The College Departments Tell Their Story of Growth Under Dr. Brandenburg's Leadership"
Article, "'The Rock' Will Appear Dec. 3"
Article, "Thirteenth Chair Quite A Thriller"
Article, "Tributes Are Heard At Alumni Reunions"
Brandenburg Recognition Service program, 20 years
Brandenburg's Silver Anniversary Program
Commencement exercises program
Compliments of W. A. Brandenburg
Information requested about the College
Junior College Conference program
Kansas State Manual Training Normal School program
Kansas State Teachers College of Pittsburg, Kansas
Letter to Dr. John L. Parkhurst
"Love-in-a-Mist" recital program
Memorial article about W. A. Brandenburg
Paper, "Man of Vision, Practical Dreamer"
Program for a dinner with Faculty and Pittsburg Chamber of Commerce
Program for Brandenburg's 21st Anniversary
Rededication of Brandenburg Field/Carnie Smith Stadium
School Law and Administration (short course program)
Silver Anniversary Dinner program
Statements about the College's origin
Statements regarding the institution
Three articles about drama events
Typewritten draft, "Proposed Program For Brandenburg Week, Week of March 15, 1937"
In Memory of William Aaron Brandenburg, Annals of Osage Mission
Anniversary Committee meeting minutes, Anniversary Committee
W. A. Brandenburg memorials, Arcadia Record, Pittsburg Sun, and Girard Press
Paper, "A Short History of Kansas State Teachers College of Pittsburg", Ernest Bennett
Paper about Dr. William Aaron Brandenburg., K. Bernardin
Christmas Letter to Alumnus of K.S.T.C. from Brandenburg, 1937, W. A. Brandenburg
Christmas Letter to Alumnus of K.S.T.C. from Brandenburg, 1938, W. A. Brandenburg
Christmas Letter to Alumnus of K.S.T.C. from Brandenburg (undated), W. A. Brandenburg
Letter from W. A. Brandenburg to Friend and Alumnus, W. A. Brandenburg
Note from W. A. Brandenburg, W. A. Brandenburg
Article, "Editor Is Chief Speaker At President's Funeral", F. W. Brinkerhoff
Letter to O.P. Dellinger from F.W. Brinkerhoff, F. W. Brinkerhoff
Letter to Dr. O.P. Dellinger from Arthur Capper, Arthur Capper
Helen Brandenburg's Letter, Helen Brandenburg Carney
Tributes to W. A. Brandenburg, Chanute Tribune, Mellicent McNeil, and Kansas City Kansan
Article, "Brandenburg Week Plans Pronounced In Final Stages", Collegio
Article, "Complete Plans For Gala Event From Committee", Collegio
Article, "Governor Huxman Makes Appearance For Anniversary", Collegio
Article, "Governor Huxman Speaks Friday Morning at Chapel", Collegio
Article, "Memorial Speech For Prexy is Main Highlight of Meet", Collegio
Article, "Silver Anniversary Will Attract All Middlewest", Collegio
Collegio Anniversary Supplement, vol. 16, no. 22, March 18, 1938, Collegio
Collegio Dedication to Brandenburg, Collegio
Collegio, volume 19, number 9, November 15, 1940, Collegio
Poem, "Do You Know This Man?", Collegio
Article, "Governor Huxman Makes Appearance for Anniversary" and others, Collegio and Pittsburg Headlight
Death announcements, Columbus Daily Advocate, Cherryvale Republican, Independence Reporter, and Kansas City Journal
Letter from O.P. Dellinger to Governor Davis, O. P. Dellinger
Letter to C.M. Miller from C.P. Dellinger, O. P. Dellinger